Get most reliable way
to stay connected in Malaysia
Get most reliable way to stay connected in Malaysia
Select your perfect data plans to enjoy 4G LTE

4.9 999+ sold

2.29

4.75 634 sold

8.99

4.75 358 sold

13.99
Multi-Country Plans cover multiple destinations
City Plans connect to the best local network
Our Local Network provides coverage
99% of time in Malaysia
ESIMMALAYSIA.NET offers reliable service on the Celcom's network.
You'll enjoy 4G LTE speed data almost everywhere you travel in Malaysia.
Speedy
4G LTE data
Experience the outstanding speed of the dependable 4G LTE network, guaranteeing a smooth and uninterrupted network connection.
Quick delivery
& Activation
Save precious time and alleviate the stress of possible disruptions with our seamless and uninterrupted data services.
Infinite mobile
hotspot usage
Feel the freedom of limitless hotspot usage. Share your data with your loved ones without any restrictions.
Keep your home
phone number
Keep your current mobile phone number and stay connected to your home while enjoying uninterrupted data connectivity through our eSIM solution.
100% prepaid &
No-contract plan
Be free from the complex contract and enjoy the simplicity of a one-time prepaid eSIM. No surprises like auto-renewals and additional fees are guaranteed.
Near-local rate
& No hidden fees
Big farewell to expensive roaming fees and a big welcome to affordable and transparent pricing. Becoming a smart consumer isn't as challenging as you might think.
Our 24/7 specialists are here to help you
Begin your trip with peace of mind. Our dedicated customer support team will help you whenever and wherever you are in the world. Just reach out to us via email.
| | |
| --- | --- |
| | Receive assistance within just 5 minutes. |
| | Talk to real human support, not an automated response. |
| | Get practical and real solutions from knowledgeable experts. |
Customers love eSIM Malaysia
ESIMMALAYSIA.NET helps you to shop your eSIM Malaysia plans & Use travel data easily. Available for iOS, Android. Simple and Instant activation. No physical SIM needed.
Join us at ESIMMALAYSIA.NET for an unforgettable Malaysian adventure. We guarantee that you'll stay connected, whether you're at the pinnacle of Malaysia's tallest tower, the Petronas Twin Towers, witnessing one of the world's top three sunsets in Kota Kinabalu, or exploring the lush greenery of Penang Hill. Capture and share these moments on your favorite social media platforms to make your journey even more memorable.
Leave behind all the worries, as our 24/7 customer support is here to support you throughout your entire trip. We promise you that your trip will be extraordinary with our reliable and swift eSIM. Start planning your unforgettable adventure in Malaysia now.
Is this your first time using eSIM?
No worries. You're in safe hands with us!
eSIM, short for embedded SIM, allows travelers to access mobile data abroad without removing their physical SIM cards. Our practical eSIM data plans will be promptly delivered to your email within 5 to 15 minutes after payment completion. This way, travelers can bypass the hassle of lining up for a physical SIM card. With eSIM. you can keep your original physical SIM for receiving SMS and calls from your home country. Experience the advantages of eSIM with a quick QR code scan and begin your remarkable trip with our outstanding eSIM data plans.
Determine whether your device is ready for our advanced eSIM technology, providing you with a seamless connectivity solution. While most devices that are GSM compatible can work with our eSIM, compatibility may vary depending on your location and carrier. For iOS devices, those released after the iPhone XR are generally compatible with our eSIM. However, devices manufactured in Hong Kong or China may not support eSIM functionality. On the Android side, the latest models of Samsung Galaxy and Google Pixel phones are typically compatible with our eSIM, though compatibility hinges on the specific model, manufacturing location, and carrier. To ensure compatibility, please consult our comprehensive list of supported devices.
Apple iPhone
Compatible Device
iPhone 15, 15 Plus, 15 Pro, 15 Pro Max,
iPhone 14, 14 Plus, 14 Pro, 14 Pro Max,
iPhone SE3 (2022),
iPhone 13, 13 Pro, 13 Pro Max, 13 Mini,
iPhone 12, 12 Pro, 12 Pro Max, 12 Mini,
iPhone 11, 11 Pro, 11 Pro Max,
iPhone SE2 (2020),
iPhone XR, iPhone XS, XS Max
(Recommended iOS version: iOS 13.3 or later)
Incompatible Device
iPhone purchased from mainland China
iPhone purchased from Hong Kong and Macao (except for iPhone 13 mini, iPhone 12 mini, iPhone SE 2020, and iPhone XS)
Samsung Galaxy
Compatible Device
Galaxy S23 5G, S23 Ultra 5G, S23+ 5G,
Galaxy S22 5G, S22 Ultra 5G, S22+ 5G,
Galaxy S21 5G, S21 Ultra 5G, S21+ 5G,
Galaxy S20, S20+, S20 Ultra 5G,
Galaxy Note 20, Note 20 Ultra, Note 20 Ultra 5G
Galaxy Note 20+, Note 20 FE, Note 20 FE 5G,
Galaxy Fold, Z Fold 2, Z Fold 3, Z Fold 4, Z Fold 5,
Galaxy Z Flip, Z Flip 3 5G, Z Flip 4, Z Flip 5,
Incompatible Device
All Samsung S20 FE/S21 FE models
S20/S21 and Galaxy Z Flip 5G from USA
Note 20 Ultra and Galaxy Z Fold 2 from USA and Hong Kong
Google Pixel
Compatible Device
Pixel 7, 7Pro,
Pixel 6, 6a, 6Pro,
Pixel 5, 5a,
Pixel 4, 4a, 4XL,
Pixel 3, 3XL,
Pixel 3a, 3aXL
Incompatible Device
Pixel 3 models manufactured from Australia, Taiwan, and Japan
Pixel 3 models bought from US or Canadian carriers other than Sprint and Google Fi
Pixel 3a models bought in South East Asia and with Verizon service
Why choose eSIM over other options?
| | | |
| --- | --- | --- |
| | | |
| Reasonably priced compared to roaming | Time-saving and convenient solution | Eco-friendly and Earth-friendly! |
| You can be a smart consumer by choosing a budget-friendly alternative compared to international roaming plans. | No need to stand in line for physical SIM cards or pocket Wi-Fi. Your eSIM will be delivered directly to your email. | By choosing a plastic-free eSIM, you are making a contribution to reducing waste and lowering CO2 emissions. |
Reasonably priced compared to roaming

You can be a smart consumer by choosing a budget-friendly alternative compared to international roaming plans.
Time-saving and convenient solution

No need to stand in line for physical SIM cards or pocket Wi-Fi. Your eSIM will be delivered directly to your email.
Eco-friendly and Earth-friendly!

By choosing a plastic-free eSIM, you are making a contribution to reducing waste and lowering CO2 emissions.
Get eSIM at your fingertips, Get ready for your trip!
Choose the plan that suits your travel needs and place an order.
Receive the QR code via email and instantly scan it to activate.
Have a light and enjoyable trip without any data concerns.
Is eSIM available in the Malaysia?
Certainly, eSIM is available in Malaysia as long as you have a compatible and unlocked device.
To confirm your device's compatibility, please visit our website and consult the list of supported models here.
To determine if your device is locked or unlocked, follow the instructions based on your phone's brand:
Go to [Settings] – [General] – [About] and scroll down.
If you see "Network Provider Lock – No SIM restrictions" and "Digital SIM – IMEI (number will appear)," your phone is compatible with eSIM.
If you see "SIM restrictions," your phone does not support eSIM.
For Samsung & Google Devices:
Go to [Settings] – [Connections] – [Mobile networks].
Select [Networks operators]
If you see multiple available networks, your phone is likely unlocked and eSIM-compatible.
If only one result is displayed, or the option to search for networks is unavailable, your phone is possibly carrier-locked. In this scenario, you'll need to contact your domestic carrier to unlock your phone before using the eSIM.
How can I buy eSIM online in Malaysia?
You can purchase the most affordable and high-speed data plans available on eSIM Malaysia.
We offer a wide range of plans that cover the whole earth to specific cities, with varying validity periods.
While it's possible to purchase and activate your eSIM at any point, we strongly advise doing so before your trip. Here's why:
Strong Wi-Fi Connection: To activate your eSIM successfully, it's essential to have a stable internet connection. By activating it before your trip, you can eliminate the need to search for WiFi, ensuring a hassle-free experience.
Validity Period: The plans will start as soon as the eSIM is connected to the local network. You have the option to scan the QR code and install the eSIM in advance. Keep in mind that 24 hours is counted as 1 day, and this counting begins continuously from the moment of service activation.
Which is the best eSIM package for the Malaysia?
The perfect eSIM package depends on your specific data requirements, coverage area, and duration of your stay. Here are some options to consider:
eSIM Malaysia Unlimited Plans: These plans come with various validities, ranging from 1 to 30 days, and offer unlimited data at reduced speeds (384 kbps) once you've used up your high-speed 4G LTE data.
eSIM Malaysia Fixed Plans: These plans provide consistent and dependable 4G LTE connectivity with data allowances ranging from 3GB to 10GB. Validities are available for 7 days and 20 days.
eSIM Sing-My-Thai: Suitable for travelers visiting Malaysia, Singapore, and Thailand, offering coverage in all three countries.
Before making your decision, we recommend thoroughly reviewing the details and terms of each eSIM plan. If you require personalized assistance in selecting the perfect plan, please feel free to reach out to the eSIMWorld team at hello@esimworld.net
Does the eSIM plan support voice calls and SMS?
Unfortunately, eSIM Malaysia offers data-only plans, which means that local phone numbers are not included in these plans. Therefore, the ability to make calls and send SMS is not supported through these eSIM plans. If you require voice calls and SMS capabilities, we recommend using VoIP (Voice over Internet Protocol) services such as Skype or other messaging apps that rely on data connectivity for making calls and sending messages.
How long should I wait for eSIM QR Code after payment?
Upon completing your payment, you can expect to receive the eSIM QR code via email within 5 to 15 minutes. However, delivery times may vary based on your email provider and network conditions. If you haven't received the eSIM QR code within 15 minutes, please follow these steps:
Check Spam or Promotion Folder: Sometimes, the email might be redirected to your spam or promotion folder rather than your primary inbox. Please review these folders to see if the email is located there.
Contact Us for Assistance: If you have checked your folders and still cannot find the email containing the eSIM QR code, kindly reach out to our support team at hello@esimworld.net for further assistance. Our team is ready to assist you in resolving the issue and providing the necessary support.
Do I need to turn data roaming on for eSIM?
When using the eSIM plan, it's crucial to activate data roaming for the secondary line (the eSIM plan you've added). To enable data roaming, follow these steps:
Go to [Settings] – [Cellular]
Tap [Secondary] (the eSIM plan you've added)
Ensure [Data Roaming] is turned ON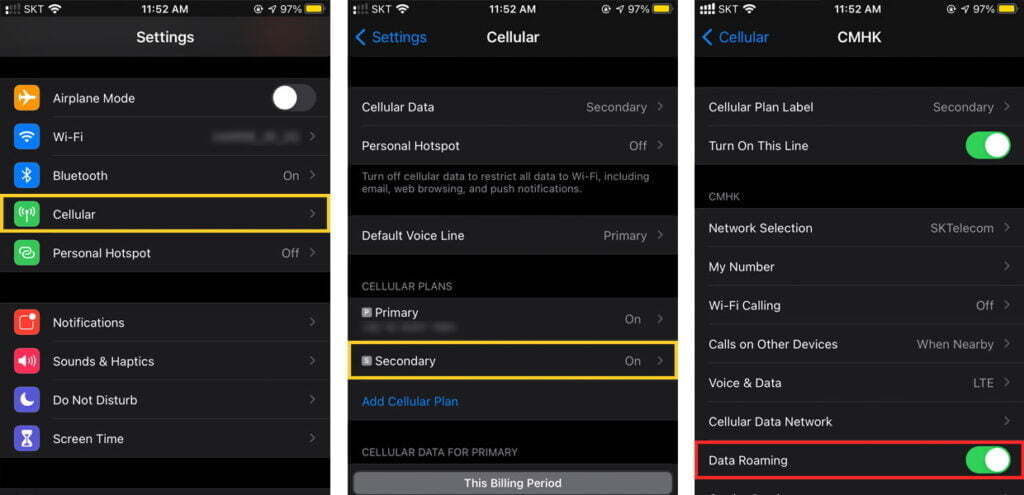 Additionally, to prevent additional charges, it's important to disable the automatic switching of lines. Here's how you can do it on Apple Devices:
Go to [Settings] – [Cellular]
Tap [Cellular Data]
Make sure [Allow Cellular Data Switching] is turned OFF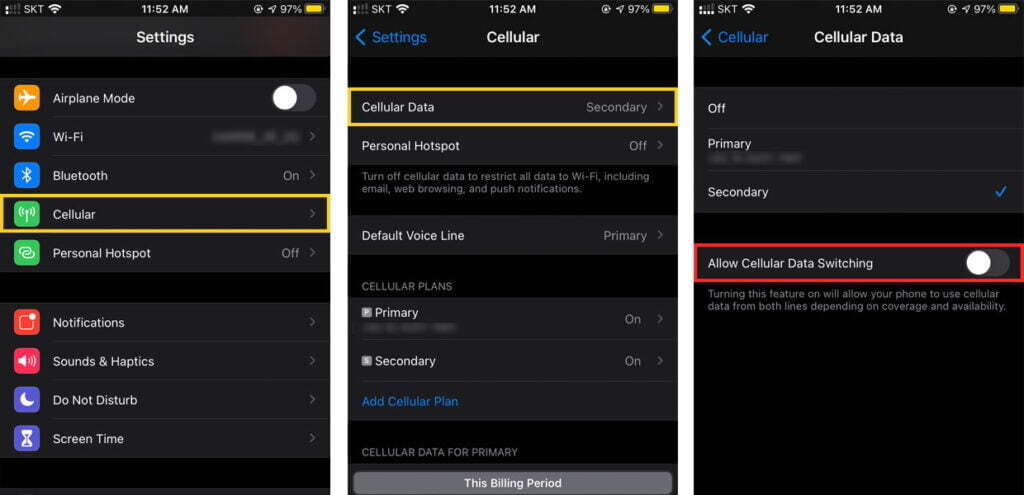 Additionally, we strongly recommend verifying with your domestic carrier whether they provide "Blocked charged international roaming" services to guarantee you have the most suitable data options while using the eSIM plan.
How do I get assistance from eSIM World Team?
If you require any assistance or have any inquiries, please do not hesitate to contact us at hello@esimworld.net. Our committed customer support team is accessible 24/7. Don't hesitate to get in touch, and we will gladly assist you with any matters or questions concerning your eSIM plan or usage.
How can I monitor my data balance?
You can easily monitor your data usage through your device's Settings. However, to know the exact data usage, you must contact us at hello@esimworld.net.
The process differs based on your device's manufacturer:
Open [Settings]
Go to [Cellular/Mobile Data]
The amount of data used can be found under "Current Period Roaming".
Alternatively, you can visit the Apple website here for more detailed instructions. Another option is to dial

101

9# and place a call to see your data usage.
Go to [Settings] – [Connections]
Tap [Data usage]
The amount of mobile data you have used will be displayed.
Alternatively, you can also dial

101

9# and call to check your data usage.
Go to [Settings] – [Network & Internet] – [Internet]
Next to your operator, tap [Settings]
At the top, you'll see the total data you have used.
How do I know if the eSIM is activated?
To verify the activation status of your eSIM, you can check for the following two indicators:
Check for eSIM Profiles: Go to your device's eSIM settings, where you should find a list of available profiles or plans. If your eSIM is successfully activated, you will see an active profile without a phone number listed among the available options.
Signal and connectivity: If your eSIM is activated and connected to a cellular network, you should observe signal bars or indicators in your device's status bar. Additionally, you might see the carrier name associated with the eSIM, confirming its activation and network connectivity.
Do I have to turn off my original SIM?
We recommend turning off your original SIM to avoid incurring data roaming charges from your domestic carrier while using the eSIM. Deactivating the original SIM ensures that your device exclusively relies on the eSIM for data connectivity in your travel destination.
However, if you still need to receive calls and SMS on your home number while using the eSIM, you can maintain the original SIM active. In this case, we recommend you disable the "Automatic Cellular Data Switching" feature on your device. his precaution prevents unintentional data usage, guaranteeing that data traffic is directed through the eSIM plan rather than the original SIM.
What should I do if I encounter the message "No network" after activating the eSIM plan?
If you encounter a "No network" message after successfully activating your eSIM, please follow these steps to troubleshoot the issue:
Turn on Data Roaming: Ensure that [Data Roaming] is turned on for the eSIM plan. You can usually find this setting in your device's network or cellular settings. Without data roaming enabled, your eSIM might not connect to the network.
Restart Your Device: Try restarting your phone to refresh the network settings and establish a connection with the eSIM network.
APN Settings: If your eSIM plan requires manual APN (Access Point Name) settings, you'll receive instructions on how to set it up after payment. Follow the provided instructions carefully to enter the correct APN information in your device manually.
If you have completed all these steps and issues persist, please don't hesitate to contact our support team at hello@esimworld.net for further assistance.
Can I keep my WhatsApp number?
Certainly, you can retain your WhatsApp number, including all your conversations and contacts, when using an eSIM.
Can I reinstall the eSIM?
In most cases, once an eSIM plan has been installed, it cannot be reinstalled or reissued. If you encounter any issues, please do not delete the eSIM. Instead, we encourage you to reach out to us first via hello@esimworld.net for assistance and support.
Can I get a refund for my eSIM purchase?
Unfortunately, we do not offer refunds for eSIMs that have been activated and used for data. Once the eSIM has been activated and data has been consumed, it falls under our policy, which does not permit refunds in such instances. We strongly encourage customers to thoroughly review their plan details before proceeding to prevent any potential inconvenience.